Ari Joshua Bluegrass BAND
Ari Joshua - Vocals, Guitar
Jeff Scroggins - Banjo
Matt Sircely - Vocals, Mandolin
Aaron Harmonson - Bass
with guest percussion * Pang!
Link to Rehearsal Tapes Here!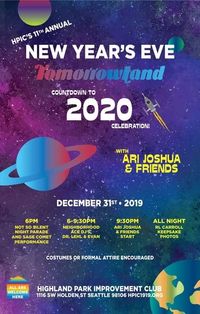 Let's do it all over again. A night filled with entertainment and celebration. Come help us finish off 2019 and jump right into 2020. This year should be a great one. We hope you can all be here to kick it off. 
6pm brings the Not So Silent Night Parade. Assemble at the club with your warm clothes and noisemakers to march through the neighborhood and blaze the path for the new year. 
630ish The Sage Comet will clear the negative spirits from the past year and put the focus clearly on the future. 
The neighborhood's ace DJs, Dr. Lehl and Evan, will provide the backdrop and beats to get you into prime dancing form for the late night festivities. 
RL Carroll will be back to capture the memories of the night with his Keepsake Photos. If you've been in the past, these are always a treat and a wonderful keepsake for the years to come. 
Ari Joshua & Friends will start about 9:30 and take you through the new year. The band will lay down a phish, dead, bluegrass mix and blast us through the invisible barrier the Roman calendar has provided us. 
As always, FREE. Food and drinks available for purchase. All ages. Bring your family. Bring your neighbors. Bring your friends. Bring yourself.
https://www.facebook.com/events/448691545797141/
https://www.facebook.com/events/448691545797141/